There are many cam sites in the world which some of them are global sites while most of them are local sites. If you have fetish on Asian cam girls, you are at the right place. I will introduce Asian cam sites specifically Korea, China, Taiwan and Japan.
List of Asian webcam sites
Site name
Country
Number of models
Nude/Non-nude
Rate
English platform?
Comments
DX live
Japan
150
Nude
$2.2
Yes
No restriction on nudity. The best webcam site
Sakura live
Japan
110
Nude
$2.2
Yes
No restriction on nudity. As good as DX live.
FC2 live
Japan
50
Nude
28 Yen~($0.26)
Yes
This is broadcasting platform which includes live and recordings(porn). Some do not show full nude.
Jewel live
Japan
50
Nude
150 yen($1.4)
No
Models do not show full nude due to JP law.
Chatpia
Japan
160
Nude
110 yen($1.02)
No
Mature models
Livedegogo
Japan
50
Non-Nude
88 yen($0.82)
No
Can talk to 2 models at the same time
Madamlive
Japan
50
Nude
110 Yen($1.026)
No
Mature models
MACHERIE
Japan
20
Non-Nude
80 Yen
No
Can talk to Japanese celebrity sometimes
Angel live
Japan
50
Nude
110 Yen($1.026)
No
Has matching function based on your profile
LIVEDECHAT
Japan
20
Nude
110 Yen($1.026)
No
Same as BBChatTV.
Fanza livechat
Japan
130
Nude
99 Yen($0.92)
No
Has different categories;

Young, mature, non-adult and virtual. Virtual means virtual girl.

Angel world
Japan
20
Non-Nude
80 Yen($0.74)
No
The site is for Japanese but all models are Filipino.
Livejp
Japan
20
Nude
108 Yen($1)
No
Nothing special about this site.
Nozox
Japan
7
Nude
$198
Yes
This is not live chat site but live peeping site. $198 is for 30 days rate.
Mens garden
Japan
10
Non-Nude
60 Yen($0.56)
No
This is the site for female or gay. All models are male Japanese.
Mens live Japan
Japan
30
Nude
70 Yen($0.65)
No
This is the only adult gay male cam site in Japan.
Girls chat
Japan
450
Nude/non-nude
220 Yen($2.05)
No
This is Mobile only site. All of girls are amateur.
Mocom
Japan
850
Nude/non-nude
250 Yen($2.33)
No
Mobile site. Models have options; Call only, mail only video chat.

The site is more like connecting to girls rather than you watch show.

Vivo
Japan
550
Nude/non-nude
180 Yen($1.67)
No
Mobile site.
partylive
Japan
300
Nude/non-nude
210 Yen($1.95)
No
Not good site as there are bad reviews.
AfreecaTV
Korea
Many
Non-nude
Free
No
More than half are game broadcaster.
live 173
Taiwan
500
Nude/non-nude
50NTD(1.65 USD)
No
Decent site with cheap rate. But streaming quality is not good
First Square Video Performing Arts Platform
China
30
Nude
???
No
I am not brave enough to try this site.
6.cn
China
Many
Non-nude
Free
No
Broadcasting site rather than webcam site.
uplive
Worldwide
Many
Non-nude
Free
Yes
Broadcasting site rather than webcam site. Good to kill time but not for jerking off.
Asian247 
Philippine
150
Nude
$0.69
Yes
Low streaming quality with lags. Not recommended
Asiancammodels.com
Philippine
100
Nude
$1
Yes
Low streaming quality with lags. Waste of money.
Chaturbate Asian cams
Worldwide
130
Nude
Free
Yes
Asian nigh time, you can find hot Asians. But you find very few.
Bongacams Asian
Worldwide
30
Nude
free
Yes
Most of the Asian cam girls are Filipino.
The best Japanese cam sites
Japanese adult camming industry is the biggest in Asian region. There are many webcam sites I introduced above, but the best site for non-Japanese who are in love with Asian girls is DX live for several reasons: English platform, translation function, out of Japanese obscenity law, high level of model's appearance, HD streaming and virtual sex focus.
Why DX live is the best Asian cam site?
I have been introducing many Asian cam sites in this page and there are many Japanese cam sites other than DX live. But none of the sites can beat DX live. Here are my points.
English platform
DX live has translation function.(Easy communication for non-Japanese speaker )
DX live is the only site that does not have to follow Japanese obscenity law which requires models to hide their private area.
Appearance level of Japanese girl is high at DX live
Japanese models at DX live has all HD quality webcam and high speed internet.
DX live focuses virtual sex rather than just stripping show.(Can have a girl friend experience)
Remote toy
The outstanding feature that DX live is its focus on virtual sex feeling. To enhance such feeling, the platform equipped with remote toy function which the viewer can control a toy that the model has. This allows you to control her orgasm anyway you want.
In order to use this function you need to click request remote toy button. You can not see this button sometime. It is because some models do not own remote toy yet. There are variety of toys at DX live. The toys can be presented to models or models have to purchase using miles that they have. This function, however, is not free but additional 1 point. But it is definitely worth using this function.
Touching and Bukkake
Bukkake is Japanese words meaning cum on face. Have you ever cum on woman's face? If you have not, this is good way to experience how it feels. With Bukkake function at DX live, you can play and interact with the models. Ask her to open mouth and aim where you want to cum. It is virtual but they will react for you.
How much does 1 minute cost at DX live?
Here is the how much points cost.
| Points | Price |
| --- | --- |
| 25 | $50 |
| 50 | $100 |
| 110 | $200 |
| 170 | $300 |
Here are the how many points you need.
Basic charge
Peeping mode
1minute = 1.2point
Chat mode
1minute = 1.2point
Option(1)
2SHOT private chat
(You can chat with a girl exclusively)
1minute = 1point
2WAY chat
(If you have a camera, you can show her yours!)
1minute = 1point
2SHOT private + 2WAY chat
(Combine both functions above)
1minute = 2point
Remote Toy Usage
(You can control a remote toy for her pleasure!)
1minute = 1point
Double Remote Toy Usage
(You can control TWO remote toys at the same time!)
1minute = 2point
Option(2) FUN 2 USE functions
Secret messages
(secret message can be sent to the girl. )
1message = 1point
GIFT options 4 kinds
(The gift (tips) can be given to the girl. )
Teddy Bear = 3points
Flower = 5points
Gift = 10points
Heart = 15points
Pros
English platform
Have translation function
High streaming quality
Models level is high
Virtual sex feeling(Can control toy, Bukkake function and etc..)
Offer free trial(Click from below)
Cons
Not many models if you visit morning time in Japan.
Price is bit high
Korean cam site
Producing porn and prostitution is illegal in Korea. Thus, there is no formally adult Korean cam sites. I say "formally" because there are Korean cam girls who do not care to break the law as the return for that does overweight the risk and punishment.
There are some Korean cam sites in Korea. But the biggest Korean cam site is called Afreeca TV.
What is Afreeca TV?
Africa TV is a Korean live broadcasting platform started its business in 2011. The way that Korean cam girls at this site make money is based on gifts. Viewers who like the broadcaster give money as a form of gifts. Top of the broadcasters are said to be making more than $100,000 per year.
The Business model itself is much like 17 live or live.me that site owner takes cut from the gifts when the broadcasters exchange gifts to money.
The broadcaster is called BJ(Broadcasting jockey). Most of popular broadcasters are female. Some sell themselves as sexy BJ doing adult show(but not showing private parts).
It used to be many sexy shows held at Afreeca TV. But because popularity of the site got Korean authority`s attention, it is hard to find Korean cam girl who does sexy show at Afreeca TV anymore.  So if you are looking for sexy Korea cam girl show, you would need  luck and to do little bid of research at afreeca TV.
How to enjoy Afreeca TV
To watch broadcaster at Afreeca TV is basically free. You do not even need to register to watch the show. There are people who sing a song, dance, discuss about something, play video games, and so on. Weird but popular broadcasting category is to show eating. Some are gluttony while other are just eating.What is fun watching it? People who watch that type of show is lonely. It is an entertainment to have feeling of eating with others. Surprisingly, top BJ just eating makes more than 10,000 USD per month.
The business model of Afreeca TV is very similar to youtube super chat. If you find an BJ who you want to support, you can give her or him a gift called "star balloon". The minimum purchase is 10 gold(1 USD ish). By giving a gift, your favorite BJ will remember you.
Pros
You can watch the channel for free.
Because it is not adult platform, there are variety of channel that you can watch to kill time.
Cons
Most of channels are not adult. Only if you are lucky, you can encounter sexy show.
No English is available.
Taiwanese Cam sites
If you google "辣妹視訊", you find many Taiwanese adult cam sites. But there is actually only one cam site which is live 173. The sites you find on google are all from live 173 white label sites. White-label is the online marketing strategy which allows anyone to establish own brand website using information from original site. The site owner of white label page can make money if visitors purchase items/points or do any economic activities.
From viewers stand point, it does not matter which site to go in as the point system, charging system and rates are all the same. It is just different design.
How to enjoy live 173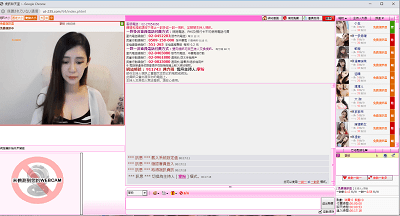 The site system is based on pay per minute. The rate for 1 minute is about 5 NTD(0.165 USD) for group chat and 50 NTD(1.65USD) for one to one private chat. But, this is just an estimate as the rate of the room depends on the broadcaster who has control on how much to charge for.
There are about 500 models including Chinese and Taiwanese models at high traffic time. There are 3 model types; pure, hot, vague.
Pure models are non-nude models who do not do any adult conduct. Hot models are the one who does adult show. Vague models are models who may do adult show if they like to.
I used google translator to check the site as the site does not have English version. When you create an account, you can not use translator as authentication system returns error. Other than that, I was ok using google translator.
Payment method
In order to watch and communicate with the host, you need to purchase points beforehand. The minimum purchase is 300 NTD. Several payment methods such as credit card and wire transfer is available for foreign users.
Restriction on live 173
Unlike most of cam sites, Taiwanese cam site live 173 has restriction on nudity level. At group chat, they can not show any nudity. This is probably because of obscenity law in Taiwan. So if you want to watch full nude show, you have to go to private 1 to 1 show. But because I do not speak Chinese, it was little hard to communicate with cute Taiwanese girl in private.
Pros
Free previews are available.
The rate is cheap, considering how hot these Taiwanese woman.
Cons
English is not available
The streaming quality is not high. (They are using phone to broadcast)
Chinese cam sites
Chinese live chat industry has been booming. But that boom is for non-adult camming industry. Because China is really strict on internet content especially porn, there is no adult cam sites you can find through search engine. However, if you know where to look, you can find Chinese adult cam site. Here is one I could find.
Chinese Adult webcam site
As Chinese government bans any pornography, you can not find Chinese adult cam site through search engine. Going through several Chinese blogs and forum, I found one Chinese adult cam site which is called First Square Video Performing Arts Platform by google translator.
The site does not look big as there were about 30 models online at the time I checked. Probably it is because the site is illegal to operate. You can watch the show for free several seconds after quick registration but then you get a message that you have to purchase points to watch more.(I am assuming thats what it says but I am not sure as I could not copy the message and paste it into translator) If you figured out how to watch the show, please leave how to do so in comment section.
Pros
The models look hot
Need more info(Contact us!)
Cons
Probably this site is illegal in China
Need more info(Contact us!)
6.cn
This is the Chinese non-nude webcam site. The live streaming can be watched for free. There are many hot Chinese ladies broadcasting. Looks like Karaoke is a trend at 6.cn because you see many broadcasters are singing in her room. Even it is not an adult site, it is fun to watch girls there because they want to get the viewers, they wear sexy cloths.
The site itself is much simpler to navigate than the Chinese site explained above. The featured models and top models are shown at the top of the display. The most of top channel is female and singing seems to be popular contents in this site.
Pros
Free to watch hot Chinese woman.
Free lingerie or sexy cloth show.
Cons
Not adult sites. Thus you can not expect sexy show.
Uplive
Probably this uplive is the biggest Asian cam site. The site is non-adult. The site covers Malaysia, Hong Kong, Taiwan, Vietnam Thai, Korea and Japan.
There are huge number of cam girls broadcasting at Uplive. But it is hard to find models who are wearing sexy cloths. Although, it is very rare, if you spend time to search, you may be able to find a channel that is doing sexy show. This site is not for jerking off but to kill time looking at cute broadcasters.
Pros
Number of broadcaster is very high
Can watch people from different countries
Free site
Cons
Filipino cam sites
If you like south east Asian, this is good news for you. You can find many Filipinos at every webcam sites such as Bongacams and Chaturbate. Cam girl job is the poplar job in Filipino community because they can speak English and the average salary in Philippine is so low compared with developed countries. Being cam girl, Filipino model can make money for a month equivalent in 1 week or so.
You can find variety of Filipino models but most of Filipino models do not have high speed internet . So you have to bear with low quality streaming with them.
Asians 247
Asian247  is the biggest Filipino cam site in the market. There are about 150 Filipino cam models working online. If you like FIlipino, this is the site to go. This site does not have male models but transgender models. The site design looks old and I am pretty sue the site is old. Unfortunately, the site does not have mobile page. So you have to visit the site via your laptop.
How much is the show?
It is free to talk to models at Asians 247. You do not even need to register to send message. However, nothing can be done without paying as no models do show for free.
1 credit is about $1. Rate for private show is up to models. But most of them set the rate as $0.99. Some are even $0.69 which is the lowest they can go. Over all, the rate per minute is probably the cheapest level among all other cam sites. From my experiences, private chat costs at least $2 at other cam sites. So you can have fun at Asians 247 at about half price of others.
In order to participate private show, you need to purchase credits. The minimum credits purchase is $29.95. If you purchase $99.95, you get 15% more credits.
The payment method is credit cards only. Because there are several card process companies available such as Epoch and paypal, your credit card should work whichever country you are from.
Asians 247 Features
Other than Private chat, there are several features to have fun. These includes
This is the same as a group chat. Pay per minute to watch the show. Since other people are in the room, you can not use your audio nor webcam to communicate with the model.
You can watch the video recorded during the show. This costs $9.99 to watch. It is much more cost effective as you can watch one whole show with $9.99. Furthermore, you can watch it whenever you want to watch once you purchase the video. If you have favorite model and have missed the show, You can still catch up with this function.
By $29.99 a month, you can get several privilege including
10% discount on 1 on 1 private sessions
Free access to live feature show.
1 Feature show is held everyday which random model is selected to featured. You can watch this show for free
Free access to featured show recordings
Recognition by models by VIP mark on your profile
Free recordings on your private show
Access to recorded private show archive
Note: please be aware that VIP membership is renewed automatically unless you change the setting. Make sure you cut the auto renew so that you do not have to pay extra.
Asian cam site Asians 247 group site
The site is owned and operated by camsoft.co LLC located in Nevada. There are several sites associated with camsoft.co. They are all the same site as Asians 247.
The site system is the same, Camgirls working there are the same but different design.
Cheap Asian cam site
Asians 247 is the cheapest site among Asian cam site. But because streaming quality is really low with lags due to bad internet connection in Philippine, I do not personally recommend this site.
Furthermore, the model quality is very low in terms of appearance and performance. When I checked there were about 150 models online but most of them were ugly old ladies. I say 10% are cute and young Filipino. This site is a good example of you get what you pay for.
Pros
Cheap like 1/3 the price of other cam sites
Can talk and have fun with Pilipino
Cons
Quality of the streaming is bad
Connection issue sometime
Models ages are high
Asiancammodels.com
Asiancammodels.com is an other dirt cheap Asian cam site. This is the same as Asians 247, all of models are from Philippine. The site has about 100 models online when I checked. About 20 % were gay and 10% were couples.
How much is the show?
Asiancammodels.com does not offer group chat and peeping chat anymore, but only private chat. Private chat cost $1 per minute with cam to cam function. The rate is about 1/3 of standard market rate.
In order to participate into private chat, you need to purchase credits. The minimum credit you can purchase is $25. 1 credit is equal to $1. The payment can be made through credit cards and bit coin. If you purchase more than $100, you get 10% more credits.
Asiancammodels.com features
Asiancammodels.com does not have special features that I would like to high light. But one thing to note is that Asiancammodels.com has video recording program.
According to the site, you can watch 200,000 videos recorded by the cam girls at Asiancammodels.com. Here is the cost table for watching video.
| Minute | Rate |
| --- | --- |
| Up to 2 minute 30 sec | $0.99 |
| Up to 5 minute | $1.99 |
| Up to 10 minute | $2.99 |
| Up to 15 minute | $3.99 |
| Up to 20 minute | $4.99 |
| Over 20 minute | $5.99 |
Asiancammodels.com group site
Same as the Asians 247, this site has several associated site sharing the same information. Here are the list.
icum.com – Icum.com is recorded video streaming site.
Same as Asians 247, I do not personally recommend this site as the quality is too low with lags. It is not worth $1 per minute. If I have to pay, I would rather go to free porn sites.
Asian cam girls at Chaturbate and Bongacams
Chaturbate and Bongacams are know for tipping based site which means you can watch show for free. Both are not Asian webcam sites but international cam sites. Because they are international webcam site, they have Asian cam models.
Asian girls at Chaturbate
As far as I confirmed, Chaturbate has Asian girls from Thai, Hong Kong, Korea Philippine, Japan and India. There are about 100 Asian cam girls. Time is important factor to see Asian models at Chaturbate. You need to visit the site at Asian night time otherwise you see none. The level of Asian models is low. You can only find 5 to 10 hot Asian models. most of them have streaming quality issue and appearance issue. The Asian girls at Chaturbate are hot but not cute from Asian perspective(I am Japanese. So I am taking from view of Japanese) Asian cam girls at Chaturbate are all Americanized which they look assertive in some ways with attitude trying to be sexy. "Cute girls" by Japanese definition is pure,immature, modest. I believe Korean and Taiwanese share the same value about "cute". So if you are looking for Cute Asians by Asian definition, you do not find any girls attractive at Chaturbate.
Asian girls at Bongacams
Bongacams is well known cam sites popular in European region and has been around quit long time. The site system is legit and you do not need to worry about security issue such as credit card theft. The number of total models are 1around 1500 depending on when you check. However, number of Asian models working at Bonga cams seems to be low. There are about 20 Asian cam girls when I checked. All of them were Filipino. May be the time I checked was not right time. There was only one cute young Pilipino. Others were old ladies.
Pros
They are both free
Different variety of Asian woman
Cons
Not many Asian women are working
Streaming quality of Asian women is not usually high
Even though it is free, you have to pay tips to initiate sexy show
Conclusion
I went over Asian webcam sites all over Asian region. I am sure there are Asian cam sites that I do not know. So, if you know Asian webcam sites that are not in the list, please let me know via comment section, I will check and add the site into the list. If you are newbies to cam sites world, check out The best webcam sites for beginner . It explains tips to boost your orgasm.