Are you a webcam model or you are thinking about venturing into the world of sexy camgirls and webcam models? Oh, are you already a sexy camgirl? Come take a look at some of the most exciting webcam modeling outfit ideas!
Webcam modeling has come to stay, and over the past, the Webcam modeling industry has experienced an increase in both new and prospective models, as well as audiences who have discovered that the world of webcam modeling is indeed exciting, entertaining, and not just a little pleasurable.
When it comes to webcam modeling, the audience is (arguably) the most important factor to consider. It makes sense to say this, because the audience will mostly go in search of the most impressive looking girls, and in other cases, audience members will take out the time to search for their own favorite models. While we may argue that this is a perfectly symbiotic relationship- audiences come to watch the girls, and the models make money, popularity, and/ social currency, off of this attention; we must also note that models exist to keep the audience entertained, interested and attracted. The only reason a camgirl would display is that there are people interested in watching her.
The webcam models are the main determinant as to whether the audience will continue to invest their time and spend their money on the webcam modeling site. It is therefore important to make sure webcam models are dressed the part- this may be dressing to look sophisticated, sexy, classy, coy, or just whatever theme the model may have in mind. In all cases, however, the major aim of the webcam model is to make an impression- preferably a lasting impression, so that the audience leaves with a satisfied smile, and a silent resolution to come back. 
We can therefore agree that camgirls should not only put in effort in whatever their overall modeling theme is about but also aim to please the audience with beautiful and impressive outfits.
Keep reading and we will show you the exciting array of outfits I have prepared, but first, let me tell you why Camgirl outfits are a necessity!
Why Are Camgirl Outfit Ideas Important?
With webcam models, having a great face and the right mindset is a great determinant of whether you will become a success or not. But do you know what an even greater determinant is? Your Webcam outfits!
Camgirl Outfits Help Boost Your Confidence
It's true. Clothes help with confidence. Imagine the feeling you get inside of you when you put on your favorite short red dress? Or your sexy stiletto shoes? Or wait! The feeling you get when you walk into a room and know that all eyes are on you because you know you look good.
This is the feeling every camgirl should aim to experience whenever she's on the screen. The perfect outfit for your recordings is one which should show off your best angles and curves, please your audience of excited men, as well as instill confidence in you because you know for a fact that you look good. And therefore, your audience will also know that you look good. 
Audiences can feel some of the emotions that models exude. If you feel nervous, anxious, or afraid, your audience can tell. In that same logic, if you feel confident, happy, and beautiful, your audience can tell as well. Nobody wants to watch a camgirl model constantly second-guessing herself, because of the outfit she has on, or the makeup she's wearing. They want to see someone who glories in her own simplicity, sexiness, classiness, darkness, or femininity. Camgirl modeling is entertainment, and so models should…entertain. They must appear calm, happy, sexy, and overall paint a picture of self-confidence.
They Help Show Off What You've Got
Using outfits to show off your best body and facial features should be something every camgirl learns. For example, knowing what colors makes your face pop, what makeup brand perfectly highlights your prominent cheekbones, what type of skirts shows off your curves, and what mixture of colors highlight your neck. You should invest in camgirl outfits because you are the face of your brand- therefore your face should always carry the most suitable makeup and your body, the most flattering outfits. 
They Send The Message Of Your Choice To Your Audience
The same way audiences can tell that the model is nervous or unconfident in the same way they can tell that the model is not sure of her worth; they can tell this because the model has not made enough effort about her appearance, because she actually looks shabby. We mentioned already how outfits make the model look and feel confident, it is the same for audiences to want to feel like they are spending their time and money on someone worthy, someone who spends enough time and importantly, money, on her role as a camgirl. The audience will be disappointed about watching someone who doesn't feel the need to invest in good quality clothes. Nobody wants to watch a camgirl who comes off as cheap.
Now you see, we are not asking you to break the bank while shopping for your outfits- we are in fact saying the opposite of this. Webcam models need not shop for the most expensive outfits before they 'look' expensive, or classy or elegant. The most important thing is knowing where to look, and what to look for. 
They Help To Create A Lasting Impression On Your Audience
We can try to think back to times when we meet new people or pass a stranger on the street, and we just think "oh that person looks good, I like what they are wearing". That person has made you actually look at them a second longer (perhaps more) than you have looked at any other stranger on the street; they have instantly made an impression on you. At a later time, you may see a random dash of color or a random face in a crowd, and you may automatically cast your mind back to the stranger that made an impression on you; the random stranger in the street. 
This is the reaction all camgirls should aim to invoke in the minds of prospective customers, first-time customers, and ultimately repeat customers. The prospective and first-time customers are very important here because you want them to eventually become repeat customers. The idea is to make sure you constantly cross the minds of these clients, making sure they think about the black two-piece you wore on Tuesday, or is it the red netted lingerie you showed off on Saturday night?
The Right Camgirl Outfit Can Help Sell You Better
Back to not coming off as cheap. You see, some people wear the most expensive designers and still ever come off looking dull or old-fashioned because they only went for expensive and did not consider any other factors. These other factors include 'how does the color bring out my eyes?', 'how suitable is the material to my skin?', 'how do I properly match two outfits to make one perfectly delightful outfit?'' and so on. There are however people who may wear the most inscrutable rags (an exaggeration I know, permit me) but still step out looking like they were specially molded by the goddess of beauty herself. 
My point is, it is not necessarily about the cost of your outfit, it is finding the perfect outfit that is both a great fit for your body and a great fit for the webcam modeling world. 
This is however not to say that you cannot invest in high-quality outfits. The audience wants to feel like they have something to do with how expensive you look on the camera. It will be a form of excitement for your audience to watch you perform in your stunning designer boots, and know that they are paying to watch a high-quality babe. Nobody wants to pay to watch a model who looks like she can't afford good clothes. They will feel cheated to know you do not value them enough to dress well, even after they give you their tens/hundreds of dollars. You want to come off as a model who is obviously making enough cash to afford high-quality outfits; and it does not even have to be all the time. 
People like to have access to stardom, and knowing they have some kind of access to a 'rich-looking' camgirl, will make it worth their while. They will keep coming back to you.
They Can Keep Your Clients Coming Back For More
Camgirls will boom when they have continuous and repeat patronage. This implies that camgirls will have to be repeatedly searched for by both new and more importantly, old customers. A camgirl must have been really impressive for her to keep getting return patronage and specific searches. Outfits are a big reason for this. Camgirls need to have the proper outfits for their audiences, they need to look exactly the type of way their audiences want and they need to make sure these outfits are neither repetitive nor boring. Outfits are a form of identifier. When your outfit has made an impression on a client, it allows for easy recognition, recollection, and remembrance. 
The audience can describe you through a web search, and more importantly, he can describe you to other people. But this will only work when your outfit is impressive. An unimpressive outfit will be easier to forget, or worse, make for a bad way to describe you. You don't want to be described as the model who "put on the horribly unsexy burgundy 2-piece" do you? This is why you should invest in camgirl outfits.
Camgirl Outfits Are Exclusive To Your Craft
Another important reason why you should invest in camgirl outfits is that camming outfits cannot be classified the same way as your everyday outfits. Camming outfits are chosen for a purpose, which is for the webcam world. They, therefore, need to be suitable for the camera, they need to accentuate the beauty of the model, and also please the customers who are there to watch. They are not outfits you wear to buy groceries, or to a family thanksgiving dinner. Your modeling outfits should be chosen with care and particularity. It must be chosen with your style of camming in mind, your audience, and of course, your body.
They Help You Be In Control Of How Your Audience Sees You
Also, for cam girls who want to make sure the audience pays less attention to their physical appearance and more to the discussion at hand, outfits should be properly chosen to this end. You want to look appealing, beautiful, and maybe even sexy, but not so much that it takes away focus on what you want to discuss with your webcam family.
You should invest in outfits because your audience wants to be familiar with who you are. People want to know you. They want to know what type of colors you like best, they want to know what lingerie material you prefer, they want to know how you choose your outfits, how you mix and match these, how you like to apply your makeup, and so on. Because outfits tell a lot about a person's personality, it is important to make sure your audience gets the correct impression about you (or about your personality on the camera anyway). If you intend to come off as sexy, then you should invest in outfits that say this about you. Makeup, boots, lingerie, and other outfits that scream "I am the sexiest camgirl ever" should be a priority to you. You are your brand, you are the product and if you want people to buy into your brand, you must be prepared to invest in it.
A Good Camgirl Outfit Is An Investment
With webcam modeling, you are trying to convince people to invest their time, money, and interest in you, and in your brand. You should also be willing to invest in the aforementioned items, and more- towards building a profile that people would find difficult, if not impossible, to walk away from. A customer should know you are worth investing in, and he must feel the desire to continue to invest his money in you. Your job as a cam girl is to make sure you look and talk the part of a person who is worth spending all of that money on. 
Do not overdo your outfits such that you look desperate, nobody wants to invest in something that seems desperate, it is something nobody wants to go near. You need to find the balance between underdoing your camgirl appearance and overdoing it. Finding the perfect balance is important to us, and that is what this article is aimed at. We want to show you what to wear, and the right way to wear it.
Types of Camgirl Outfits
Simple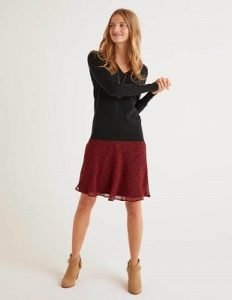 While most of the videos produced by webcam models are sexual in nature, some others often include elements of humor, discussions of everyday-happenings, intelligent conversations, or just generally the model's narration of her lifestyle. In cases like this, cam models may want to go for simple outfits.
For cam models who will mostly prefer to be covered up as they talk about a range of topics, dressing to look simple may be the way to go. These non-sexual camgirls may find it easier to go for simple outfits, as it will not be too distracting for the audience; allowing for them (audience) to pay attention to what she is talking about. We must however note that the non-sexual cam models are still very much interested in the attention, time, and money/tips that her audience will offer. They may not play to being provocative, but they still do need to put a considerable amount of effort into their outfits.
Because you want your audience to pay attention to you, you must make sure to be decent, yet elegant. Do not appear overly serious, unless that is the theme you are going for. Simple outfits like a shirt-dress, a little black gown, or a long-flowing gown, should be considered. Pair this with a dash of nude lipstick, pink blush to your cheek, and adequate mascara to your lashes, and you are good to go!
For cam models who provide explicitly sexual content to their audience, you may think that the simple outfits do not concern you. In fact, you may understandably be averse to the idea of wearing simple outfits for your webcam modeling. But let me tell you that the simplest outfits can turn out to be amazingly sexy, depending on how well they are made to fit. Seriously, from time to time, consider putting on a simple outfit for your audience. Your audience may have become used to your various type of incredibly sexual outfits, and you will be surprised at the response you get when you decide to switch up and do something entirely different. Something little, yet unexpected. 
It is important to never let your audience become too used to your concept. They may start getting bored with you and even start to drift away because they always know what to expect. This is never what a webcam model wants- repeat patronages by people who have somehow become your friends, is something you don't want to lose. Therefore take care to occasionally give them something different, it would turn out to be a breath of fresh air. Simple outfits like a plain white tee with black lacy pants, a body-fitted dress with no underwear, or a short skirt paired with a lacy bra, will achieve this purpose.
Goth
Contrary to what may be the popular opinion, cam models often talk about how their audiences will many times consist of 'serious-minded business people' (lawyers, doctors, and many professionals in their field of work), who try to use the camming sites to unwind from the pressures of their jobs. The audiences come for a different experience, something out of the norm. This doctor or lawyer may be interested in watching a camgirl who succeeds in creating a dark air of mystery about her, something he doesn't see in his everyday life. Goth webcam models are sexy because they portray a vibe of danger, and this is a big turn-on for their audience.
To create the gothic look, aim for darker outfits, makeup, and accessories. 
Combine black booty shorts with a nettop (with or without a dark bra). Complete this fit with high heeled boots and popping gothic makeup. Some camgirls may choose to finish this look with a red bone-straight wig and a dark-colored hat.
Girly
If your audience demography consists of more men, then best believe they want to watch you be girly on camera. The audience is interested in watching you behave, talk, and look feminine. Girly camgirls tend to create a vibe of vulnerability about them, which is what their audience will find the most appealing.
Girly outfits are easy to create, you only need to think like a, you know, girl. The main tip about the webcam model girly outfits is to make sure you aim to look 'soft'. You want to look like a proper feminine lady; cute, approachable, and calm. When choosing girly outfits, the colors are also very important. Go for warmer colors like white, pink, light blue, lilac, and the other softer variations of the everyday colors, as opposed to loud or wild colors, unless you will be properly matching one with the other.
A short red dress, tight skirts with a crop top, or a playsuit, will give you the perfect girly outfit. Of course, do not forget that the right amount of makeup is also a great factor towards completing your girly look. Light makeup with mostly nude colors, will create the impression that you are not only girly but sexy as well.
Pair this with your favorite black stiletto shoes and you have achieved the simple yet sexy look! Better yet, paint your toenails a popping white or pink color, and just leave your bare feet dangling on camera, the promise of more to come.
Natural (Hippie)
The hippie webcam model wants to look fun and aloof, but sexy. The aim is to always pull off looking sexually appealing, no matter what outfits you have decided to incorporate.
The hippie camgirl will wear colorful flowing outfits that she may or may not intend to take off at a point during the show. Prepare to wear a hippie headband (usually one made with flowers), or just a scarf that could be tied up in beautiful styles. The use of makeup should be kept to the lightest, and your hair will usually be left to fall around your neck.
The audience sometimes wants to see women in their natural state, with less makeup, and colorful looking outfits. Hippie models look like fun and this is their appeal to the audience.
The hippie fit is very feminine, such that it shows the natural state of the webcam model. Hippies are mostly women, and therefore this fit is specifically for the female webcam models. 
Anime Freak
Lovers of anime, gather here! And even if you are not a lover of anime, you still need to be here because you need to learn how to take on the role of anime characters in order to please and satisfy your audience.
In America, Camgirls who dress like anime characters are few and therefore in high demand by the American audience who have a thing for sexual anime. In the private rooms of many webcam sites, a special audience may request for the model to dress up like their favorite female or male anime character. Because not many camgirls are willing or capable of pulling this off, the audience is likely to tip a lot, if he is impressed.
It goes without saying that this culture is more popular in the Asian webcam sites. Anime freak outfits are a big turn on to the people who are into them. For the camgirl, you may not necessarily be an anime fan before you can dress like a character from an anime show. However, understanding the culture could help you do a better portrayal of characters, and give you a better idea of how to wear the costumes. 
The internet provides a wide range of options for anime stores, where you can pick and choose the fits that you want. It is also the norm to dress to please a particular audience, and in this case, role-playing may be considered; or actually, just simply sitting pretty like the anime character you are portraying.
For anime outfits, you may also need to purchase accessories, makeup, and wear hairstyles that perfectly portray the character you are gunning for. Provided your audiences are willing to watch you, feel free to splurge on your anime freak outfits!
What Type is the Best?
Picking what camgirl type is the best, is mostly subjective, because the preference of one person, differs from the other. The reason there are these many times of camgirls is that various audiences can have their own different tastes and preference. Where some people want a simple webcam model session, others want the wild and fiery display. 
While some people will prefer the hippie because she feels natural, acts feminine, and looks like she constantly smells of roses, others will prefer the goth camgirl who looks like she may sip a glass of blood during her lunch break. Many others will go for the cute girly camgirl, who looks gentle and acts like she doesn't want any trouble, and perhaps someone else would go crazy about watching the anime freak show off her costume on display.
However, we can only state that the most popular camgirls seem to be the girly webcam models and the simple webcam models.  
Things to Choose
To get started on picking out outfits for your webcam modeling, it is important to know the right things to choose from. You may be swayed to spend money on many unnecessary things, while completely ignoring the things you urgently need. Read on for the things you need to pick out.
Hair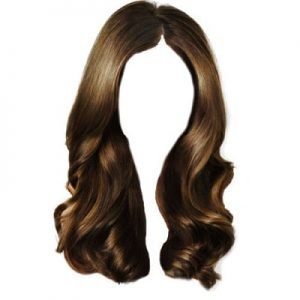 Wearing your hair down

Braids

Wigs of differing colors (red, black, green, etc.)

Take a curling iron to your hair and let it dangle at the tips
Accessories
Choker

Dog leash

Bangles

Ankle bracelets

Earrings
Make-up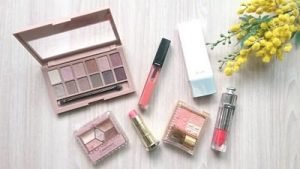 The US market tends to appreciate a lot more of the thick make-up (slutty), but for the Asian market, the lighter makeup is popular.
This does not say that you can't try to do your makeup either way, especially if you are the adventurous type. For instance, the goth camgirls will surely go for the thicker makeup style, no matter what market they are targeting. Again, the most important thing is to be comfortable in whatever style you choose to go with.
Clothes
Leather boots, heeled ankle boots, 

Knee-high boots

Skirt

Buckle

Crop top

Silk panties

Short and long dresses

Thongs/g-strings

Knee-high socks

Scarfs 

Heels (stilettos, block heels, basic pump, strappy heels, platform heels, stripper heels)
Could I Reuse Items Many Times?
The only people who do not repeat their clothing are the billionaire celebrities (*whispers* and even they have favorite outfits they can't help but repeat).
Please do not feel awkward about reusing your outfits; hats, accessories, boots, whips, and even lingerie can be reused as many times as you want, so long as they are properly handled and laundered. Take note of clothing items or costumes that require hand washing or special laundering, so that you do not ruin the material. See the next heading on how to pull off reusing items.
Rotation is the Key
When it comes to reusing items, the tip is making sure to rotate them few and far between one another. Do it this way:
When you buy new sets of skirts, mix it up with a crop top you wore a few months ago, and the ankle boots you wore a few weeks ago. Make sure attention will be riveted on the skirt, than on any other clothing outfit you have on (of course nobody really notices when you wore what, especially when you have your tits in their face). Complete the dressing with one of the hairstyles listed above, wear your slutty makeup and believe me nobody cares if you're wearing that thong for the second time.
Of course, having a limit is also an important thing to note. You don't want to wear the same outfits so much so that it becomes easily recognizable by your most frequent client. Learn when to stop wearing a particular dress, and replace it with a new one. Hygiene is also important, do not repeat underwear unnecessarily. Always appear clean, the camera shows much more than you actually think.
Adding Some Extra Spice – Best 10 Camgirl Outfits Ideas in 2020
Here are 10 different outfits that we recommend for camgirls:
For the gothic camgirls, an Off-shoulder gothic queen dress, paired with a knee-length boot. Wear gothic makeup with this, tying your hair up, to show off your delicious shoulders!
A simple tight black or red dress may have a much more effect on your male audience than you can imagine!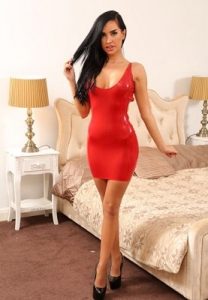 Tease the audience with your nipple piercings when you wear a black see-through top. Pair this with a long skirt and make them wonder if you're naked underneath too.
Straps hollow out one-piece swimwear. Wear a slutty makeup with this, and leave your hair down!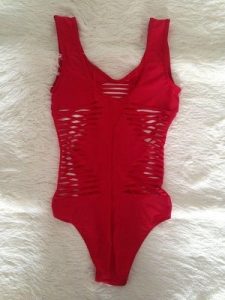 A backless lingerie deep V-neck swimwear. Wear your hair however you like, but do make sure your tits are visible by the V-neck. Let your audience wonder if you will be going to bed in that.
Lace-up jumpsuit lingerie, paired with a bum short and fishnets. Wear your hair however you like, but give your lips a popping red color.
Black or white lace oversized trimmed babydoll or a lace baby doll dress sleepwear. Wear some light makeup, the focus should be on how soft the outfit looks against your skin.
Sexy white corset and waist cincher. Pair this with a pair of tight-fitting jeans while you sip red wine and talk to your audience about what you did the day before.
A big t-shirt with simple everyday panties. No makeup and leave your hair down. With this fit, you are gunning for a sleepy-lazy look that your audience will find sexy as hell.
A sweeping-the-floor outfit you can walk elegantly around in. flash your sexy feet from time to time and give your audience a great boner.
Uniform or Costume
We have mentioned several times in this article, how it is never wise to let your followers become too familiar with your style or routine. Costumes and uniforms are a great way to spice off your webcam modeling career. 
Some audiences also like the idea of a camgirl dressing up like a schoolgirl, a policewoman, or even a nurse. Here are some ideas for costumes you can use:
List of Top 5 Costumes
Sexy Halloween costumes

The slutty nurse uniform

The sexy Santa costume

The sexy Easter bunny

Costumes portraying a Tv character or superhero (e.g, dressing up like the Khaleesi from Games of Thrones, or like Wonder woman)
These simple outfit works well too!
Not only costume, uniform or special outfits are good but these simple outfits that you should have works very well.(I do not think you have butt plug though lol)
Tight Skirt
Skirts are one of the sexiest, yet feminine outfits ever. A tight skirt will show off your curves and emphasize your butt. Better still if the skirt is short and can draw more attention to your legs. Skirts can make you look classy or slutty, depending on how it is fitted.
Bikini
If fitted the right way, bikinis can come off as one of the best outfits you can wear for your webcam recording. Pair your bikini with stripper/platform heels and slutty makeup.  
Sexy Lingerie
The lingerie you decide to wear for your recordings is up to you, but make sure your lingerie matches your camgirl persona. The girly camgirl will want to go with clean and nice everyday bra and panties, or a simple bum short showing off more butt cheek than not. You want to look innocent, but super sexy at the same time.
If you are going for a slutty theme, lacy panties, satins, or silk lingerie should be considered. Remember you don't have to spend all of your money on the most expensive lingerie, but it is also good to splurge on high quality from time to time.
The more lingerie you can buy, the better. Because you can wear multiple layers of different lingerie and make your audience watch you take them off. Tease your audience with your stripping, they keep tipping and you cash out!
Butt Plug
A butt plug is a sex toy that is designed to be inserted into your anal, for pleasure. If you are making use of a butt plug, it would mean you are going full-on slutty and therefore your makeup and outfit should match with this.
Props
Props are a great way to help your show more interesting. You can get a spanking handle for BDSM related shows, eyeglasses, a pet, handcuffs, fancy pillows, whip offbeat, prize wheel, and so on. You don't have to get everything all at once, feel free to buy them as you go.
Conclusion
Now you have absolutely no excuse to not look drop-dead sexy in your webcam modeling sessions. Remember to mix and match outfits, do not limit yourself to one particular mode of dressing, style, or character. Get out of your comfort zone, don't be afraid to slut it all up, or virgin it down. When your style is unpredictable, your audience will never want to miss any of your sessions.
Invest in your camming; the more you invest in your content, the more money can make. Remember that you are not the only camgirl out there, and so you need to up your game. Invest in your laptops, your webcams, good props, loudspeakers, and of course, outfits!
Regardless of every other thing, the most important way towards enjoying your time as a camgirl is to be comfortable in your own skin and your own style. Do not become too eager to please your audience, such that you wear outfits that make you uncomfortable or self-conscious. Always prepare to enjoy yourself, camming is fun after all!